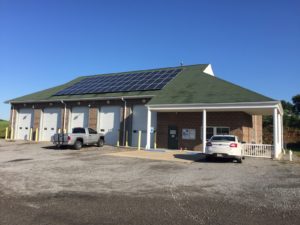 WEEKEND DUMPSTER
A dumpster is provided at 262 Pittsburgh Grade Road for Greene Township,  Hookstown, and Georgetown residents ONLY.
Hours of operation are 9:00 am – 3:00 pm Saturday only through November 25, 2017.  The dumpster closes during the winter months and will reopen after the time change in the spring.
We accept most items that your garbage hauler will not take.  There are some exceptions, due to the restrictions placed on us by our recycling company.   We will not take the following:
Household garbage, mattresses, propane tanks, batteries, yard waste, televisions, electronics (including computers), fuel tanks, recyclable tires and refrigerators unless they are tagged to have the freon removed by a certified technician.
During the winter months you may contact  the BEAVER COUNTY RECYCLING CENTER (click for website) at 724.770.2064 for their recycling schedule and pricing.
THE SOUTHWESTERN PA HOUSEHOLD HAZARDOUS WASTE TASK FORCE takes common household chemicals such as pesticides, paints, cleaners, automotive fluids and pool chemicals.  Call 412.488.7452

BEST BUY takes TVs and other electronics.  Call for more information 724.728.3816

IRON CITY STEEL AND RECYCLING 724.457.4766

For more information on recycling and donation centers, visit www.earth911.com
PAPER RECYCLING
PAPER recycling containers are located next to the old road garage (above the ball fields on Route 168) and beside the gravel pile at the Municipal Office at 262 Pittsburgh Grade Road.  
This is a free service and does not cost the Township to have them emptied. Flattened cardboard is acceptable.
Please do NOT deposit any food containers such as cereal boxes, etc. as the food residue could attract rodents to the boxes.
ROTATING RECYCLING TRAILER
Greene Township participates in a cooperative recycling project with the Townships of Hanover, Independence and Raccoon.  The jointly owned recycling trailer is located at the municipal building at 262 Pittsburgh Grade Road on a rotating basis. 
The Board of Supervisors has accepted the burden of the cost to recycle as their pledge to help reduce the waste stream.  
The Township must pay the company who accepts the recyclables and wages for the dumpster attendant.  
There is also the cost of equipment and labor to deliver the recycling trailer to the processor and then to the next Township.  
Location of the Rotating Recycle Trailer is as follows.  A FULL WEEKEND is designated as one which has a Friday, Saturday & Sunday.
Residents of any of the four Township's may drop off their recyclables at any location!!
The trailer accepts #1 & #2 Plastic Containers, unbroken glass – clear, green and brown beverage bottles and food jars with lids and metal rings removed.  Steel Cans – including food cans of bi-metal and tin cans such as soup and vegetable, empty paint cans and empty aerosol cans.
Aluminum – beverage and food cans, pie plates and clean foils.