Road emergencies can be reported during regular business hours by calling:
724-573-4612 or 724-573-1111.
After hours call 724-312-2222.
ROAD FOREMAN RON MILLER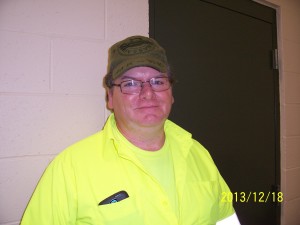 Greene Township is pleased that Ron Miller of Tomlinson Run Church Road is our Road Foreman. Ron fills the position held by Maggie Smith until her retirement in 2013. Prior to working for Greene Township, he spent 11 years working for neighboring Hanover Township as an Operator and Mechanic. Born and raised in Greene Township, Ron helped his father (Earl) and brother (Tom) at their lawn and garden equipment sales/service business, located on the family's farm on Tomlinson Run Church Road. Ron and his wife Donna have three children and 7 grandchildren!
We're glad to have Ron working for his home Township!
Also helping Ron is Troy McHaffie of Georgetown who was hired in the fall of 2018.   We appreciate and value their dedication to the job and the experience they bring to the position.
SNOW REMOVAL AND PLOWING
Each year, the winter season is a difficult and trying time for both residents and the Township road crews. How much snow is forecast? Will I be able to get to work? When will it stop snowing? When it does snow, everyone can become easily frustrated and exasperated unless some simple rules are followed. To avoid having your driveway plowed shut by the Township or State road crews after having spent a lengthy time opening it, please clear an area on the "upstream" side of your driveway entrance.
This will allow space for the snow plow to deposit snow without creating a window of snow at your driveway entrance. Homeowners are reminded that depositing or leaving snow in the public road is prohibited and violators can be fined. Such obstructions create hazards by restricting the travel lanes of the road and cause snow and ice accumulation. Vehicles must also be removed from on-street parking spaces, particularly around cul-de-sacs. In addition, the Township road crews are not responsible for clearing around mailboxes.
If you want mail delivery during storm events, please remove enough snow around mailboxes to allow access by mail delivery vehicles. Remember, although the Township may have considerable authority, we have no control over Mother Nature. The more understanding and cooperation from all involved, the more easily and efficiently a difficult job can be accomplished. Give the road crew a wave and a smile – plowing snow is a demanding job!
STATE ROADS
State roads in our township are maintained by PennDot. For information contact their Rochester site at (724) 774-6610.
US Route 30 (Lincoln Highway)

State Route 168

State Route 151 (Bocktown Road)

Old Mill Creek Road

Gas Valley Road

Shivler Road