EDUCATION
PARCEL INFORMATION WITH GIS
Greene Township parcel information at the county level is available at the Beaver County PA website.
MUNICIPAL WATER and SEWAGE :
There is no public municipal water OR sewage service in Greene Township.
Residential water is provided by private wells or cisterns.
Sewage is provided by on-lot sewage systems. Questions regarding new or existing systems can contact the Sewage Enforcement Officer directly.
WASTE HAULING:
The township does not contract with any particular company. Residents are free to use whichever garbage/trash company they prefer.
TRANSPORTATION:
There is no municipal transportation services in Greene Township.
The Beaver County Transportation Authority (click here) provides door-to-door, advanced reservation service through the DART service.
(724) 375-2895 or 1-800-262-0343
MEDICAL SERVICES, HOSPITALS and DOCTORS
There are no Doctors practicing in Greene Township. To find a Doctor, visit the Heritage Valley Beaver Hospital (click here). Heritage Valley Beaver is located at 2032 Brodhead Rd Ste 2, Aliquippa, PA 15001 in Brighton Township, on Dutch Ridge Road, 1.4 miles from Beaver, PA.
Directions: From Rt 168 / RT 30 interection: North on Rt. 168 to Shippingport, turn left onto Shippingport Bridge, turn Right onto Rt. 68. Follow Route 68 east approximately 10 miles. After crossing the overpass for the Route 60 interchange, Route 68 becomes State Avenue. Follow State Avenue approximately 1.6 miles to Market Street. (The Beaver County Courthouse is on your left.) Turn left on Market Street, which becomes Dutch Ridge Road, and drive 1.4 miles. Turn right into Heritage Valley Beaver and follow signs for designated parking areas.
GEOGRAPHICAL
| | |
| --- | --- |
| Population | |
| (per 2010 census): | 2,356 |
| (per 2000 census): | 2,705 |
| (per 1990 census): | 2,573 |
| Homes: | 955 |
| Area: | 26.26 square miles |
| Road Mileage – | |
| Township maintained roads: | 43.18 miles |
| State maintained roads: | 15.77 miles |
We have a total area of 26.2 square miles, of which 25.0 square miles is land and 1.2 square miles (4.56%), is water.
Across the Ohio River, the township runs adjacent with Glasgow, Ohioville and Midland.
Greene township has 5 land borders that include –
Shippingport to the northeast
Raccoon Township to the east
Hanover Township to the south
Hancock County, West Virginia to the west and
Georgetown Borough, though a separate municipality, is located within Greene Township to the northwest
The Borough of Hookstown, though a separate municipality, is located within Greene Township, in the center.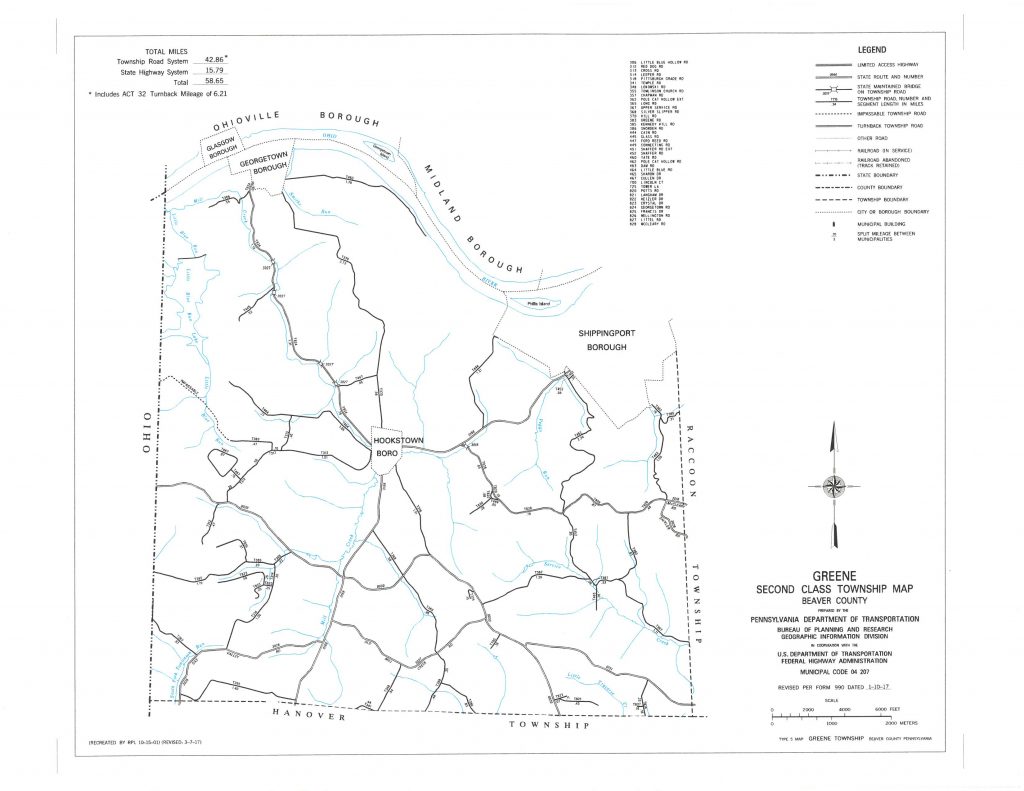 We are also known for the Hookstown Fair which is located at 1198 State Route 168, Hookstown, PA 15050.
This week-long annual event is home to many families as we all join to partake in traditional fair food, carnival rides, derbies, pie baking contests and live music.
THE VILLAGE AT HOOKSTOWN
Saving our Past to Protect our Future
ALSO SEE: https://sshva.wordpress.com/